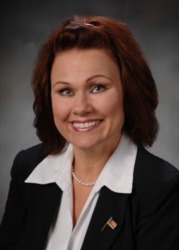 Tammy Busch
Realtor®
Downtown - West Office • 130 Main Street • Evansville,IN 47708
Downtown - West Office • 130 Main Street • Evansville,IN 47708
Tammy's Profile
Talk To Tammy at Tucker
Home is one of the most important investments you will make in your lifetime. As a dedicated professional, I will provide efficient service that goes above and beyond your expectations.
Objective
· To provide excellent customer service necessary to earn your trust, confidence, and recommendation. I am backed by the power of the #1 real estate company in Indiana. F.C.TuckerEmge's host of available services means that I can spend more time making sure your move is smooth and efficient.
Education
· Indiana State University of Evansville (Business/Management)
· Graduate of Real Estate Certification Program
· Graduate of F.C.TuckerEmge Professional Sales Training Program
· Real Estate Continuing Education Courses
Personal
I am a native of Evansville and was born and raised on the west side. The short-list of things I love are family vacations, scrapbooking, reading and dinner at Sushi Bars. I have been married for 22 years to Joseph, we have a teenage daughter, Alexandra, and a Chihuahua, Tippy.