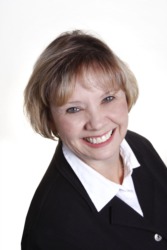 Michelle Brockman
Realtor®
Ferdinand Office • 1325 Main St. Suite A • Ferdinand,IN 47532
Ferdinand Office • 1325 Main St. Suite A • Ferdinand,IN 47532
Michelle's Profile
Michelle Brockman believes that real estate is a relationship business.  Building strong and meaningful relationships and fostering cooperation between clients, agents, lenders and our communities is the key to any successful REALTOR®.
Michelle and her husband Mark began their real estate company in 2001 in their Kentucky hometown.  Michelle moved back to Indiana in 2015 after Mark's passing and took over a real estate partnership he had been involved in.  Realizing that sitting in an office and running this small, independent company wasn't taking advantage of her strengths of working with clients, Michelle started looking for answers.
After much research, F.C. Tucker Emge REALTORS® offered her the best solution.  Michelle knew that the company's technology, marketing, processes, relocation division, network and support that is offered by Tucker to their agents is the best in the industry. She's convinced that her clients will now benefit in many ways that were not available to them before.
The mother of three children, Amy, Adam and Hannah, and the grandmother of three grandsons, Cooper, Carter and Keller, Michelle enjoys nature, gardening and reading.  She served on a local literacy council, and is passionate about programs for children.
As a full-time agent dedicated to listening to the needs of her clients, Michelle looks forward to working for you!  Talk to Michelle Brockman at 812-630-4398!
Testimonials
"Thank You Michelle. We are very happy we chose you to represent us in the sale of our property. You gave us more than enough information to make decisions as we went through the entire process. We were happy receiving updates before we had to ask for them. It has never been easier plus we aren't looking back thinking, what if. I will recommend you to everyone."
Frank G.
"Michelle was very accommodating in helping my fiance and me find the right house for us. We described what we were looking for and she suggested different ideas that she thought would best suit us. We also found houses on the internet and told her about them and she set up house visits within a couple days. We went through probably 5 or 6 houses before we found the right one. Each time she was excited and more than willing to meet with us and gave us pointers on things to watch out for in choosing our first home. I highly recommend choosing her as your real estate agent."
Kyle
"Michelle is wonderful! She is very patient and took the time to find the perfect home for us. She is very knowledgeable and provided us with the most detailed information one could get in the home buying experience. And you won't find a sweeter lady to work with! Overall it was a great experience and if we ever sell she will be our realtor again. Highly recommend!"
Doug