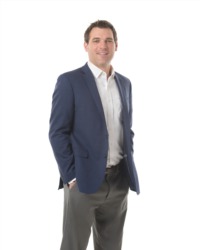 Mark Clayton
Realtor®
Eagle Crest Office • 7820 Eagle Crest Blvd, Ste 200 • Evansville,IN 47715
Eagle Crest Office • 7820 Eagle Crest Blvd, Ste 200 • Evansville,IN 47715
Mark's Profile
There is no doubt that Mark Clayton's extensive background and skills in negotiation and closing the deal will soon propel him to the top ranks of local real estate agents.  As a former staffing manager where he helped job hopefuls find that perfect job, he is now helping new home hopefuls find that perfect home.
With the skills he already possesses and the extensive real estate training he received from F.C. Tucker Emge REALTORS®, Mark is poised to also present his listings in the best possible light...a major plus for anyone looking to sell their home.
As a native of Louisville, Kentucky, Mark and his wife made the move to Evansville when Shannon accepted her dream job at St. Mary's/St. Vincent Hospital.  When it comes to relocation, Mark knows the process in and out, because he's been there, done that!
Attending Sullivan University at night to earn his Bachelor's Degree in Marketing while working full time during the day AND doing construction work on the weekends is proof of his dedication and discipline.
In his free time, Mark enjoys playing golf and spending time with his wife.  After tearing his ACL, this former basketball player also turned to coaching, because of his love for the game.
If you're looking for a REALTOR® who is a true people person and one who will work non-stop to close the best deal for you, Talk To Mark Clayton at 812-518-9777!