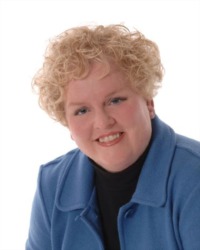 Joyce Lawrence
Broker Associate, ABR
Eagle Crest Office • 7820 Eagle Crest Blvd, Ste 200 • Evansville,IN 47715
Eagle Crest Office • 7820 Eagle Crest Blvd, Ste 200 • Evansville,IN 47715
Joyce's Profile
www.MakeJoyceYourChoice.com  (812) 449-3420
For over 20 years, Joyce has been successfully selling and marketing residential real estate and new construction.  With over $110 million in sales volume, she ranks in the top 10% in the nation.  She's been able to do that because she has a solid handle on the local real estate market, and she keeps her clients informed on the buying and selling process.  This pleasant and productive real estate experience not only keeps her clients coming back, but it also insures that they send plenty of referrals her way.
Although she has lived on the east coast and in northern Illinois, Joyce enjoys the Midwest hospitality the most and has spent the majority of her life right here in the Tri-State Area.  She and the love of her life, Don, have been married since 1976 and have two wonderful children Ryan Lawrence and Dr. Brandy Greco, an Evansville dentist.  These boasting grandparents love spending time with their three wonderful grandchildren as well as Ryan, Brandy and Brandy's husband, Julian.
A personal note from Joyce -
"I look forward to helping you become a part of the Tri-State Area.  Don and I both love helping people get into their dream home, and with my real estate background and Don's extensive mortgage experience at Fifth Third Bank, I can guarantee that if you "Make Joyce Your Choice," you'll receive the expertise and care that keep my clients coming back."
Talk To Joyce at 812-449-3420!


Education:

Real Estate Certified in the State of Indiana
Real Estate Continuing Education
Accredited Buyer Representative (ABR)
National Association of Realtors Conference
Relocation Certified for F.C. Tucker Emge Realtors

Professional Affiliation:

Indiana Association of REALTORS® Professional Standards Committee Chair for 10 years
National Association of Realtors
Indiana Association of Realtors
Evansville Board of Realtors
ABR

Community Involvement:

United Way
Keel Club
Junior Achievement
American Heart Association
March of Dimes
Testimonials
"Aggresive and Professional - The Lawrence Team is aggresvie, professional and detail orientated. GOOD JOB!"
James Kevin Grider
"Best Interest at Heart - I was referred to Joyce by a friend for the sale of my mother's home. Her service was excellent. Joyce's professionalism made me feel she had my best interest at heart"
A Client
"California Happy - Joyce was always ready to show any property that interested us and found more that she thought might fit. Compared to our realtor in California well there is no comparison!!! They are the TOPS!"
Alan and Carolyn Smith
"Excellent Reputation - Joyce made a very stressful situation into a wonderful buying experience. They went way beyond excellent in everyway. I would recommend her to anyone buying or selling a home."
Christine H
"Good Communicators and Smart - Joyce is good as a individual. We used Joyce for anew Construction and the sale of our home:"
Josh and Jessica Stock
"Joyce is an Outstanding Agent - Joyce is an outstanding real estate agent. She know real esate inside and out. Joyce kept in close contact with us, explaining each step along the way. Joyce worked to understand our needs and meet them. We felt that she was always in our corner! We definitely recommend her services to friends and family."
Jessica and James MacLeod
"Joyce is very professional - Joyce was very professional and knowledgable of the market. She went over and above to show us many houses, at anytime we requested."
Warren McCullough
"We have dealt with a number of realtors in the past and Joyce by far the best we have ever had! Our selling and buying situation was quite unique in which many things could have gone wrong but she made it happen successfully and smoothly. Joyce was a great person to work with!"
Clint and Paula Mann
"We would recommend Joyce to anyone and everyone. They were available whenever we needed them and went over and above in helping us purchase our next home. If is very much appreciated."
Dale and Laura Williams
"You made it seem a lot easier than we expected. Again, we would like to thank you for all your help. We didn't know much about the home buying process. You made it seem easier than we expected."
Kristoffer & Layne Brown
"Buyer Perspective - We received the photos yesterday and they reminded us of how beautiful the house and setting are. THANK YOU! You two are the best real estate agents we have ever encountered, so "On top of things""
Alan and Carolyn S.
"Joyce is an outstanding real estate team. Joyce knows real estate inside and out. They kept in close contact with us, explaining each step along the way. They worked to understand our needs and meet them. We felt that they were always in our corner.! We will definitely recommend their services to friends and family!"
Jessica & James MacLeod
"Great Explanations and Professionalism! Thanks for Everything."
Stormy Crook
"Happy Seller - Joyce was excellent to work with. They were so wonderful! I would use them again."
Beverly K.
"Outstanding Job - I selected Joyce for the purchase of a home and my service was excellent. I was referred to Joyce by my new employer. I would use Joyce on any future real estate purchase. I have heard from here after the purchase. Joyce did an outstanding job!!!"
Brian M.
"Professional - Joyce was very organized and professional. She was wonderful to work with."
A Client
"Professionalism - I selected Joyce for a purchase and the overall service was Excellent. I was referred from a past client and employer. Yes, I would use her again. I have even heard back from her. Why did I select and work with Joyce: PROFESSIONALISM!"
A Client
"Joyce wasWonderful! From start to finish Joyce works for you."
Jamie Reiter