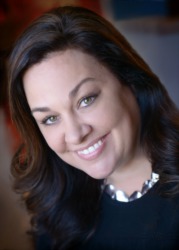 Gina Mehringer
Realtor®
Jasper Office • 901 Newton Street • Jasper,IN 47546
Jasper Office • 901 Newton Street • Jasper,IN 47546
Gina's Profile
Gina's goal as a Real Estate Broker is to make you so happy with the level of service she provides to you, that you gladly recommend her to others you know and care about. With her background in Real Estate and Mortgage Coaching, Business Development and Marketing paired with her Communications degree from Indiana University, she is able to use her expertise to effectively market your home. She provides outstanding results and make the process of buying and selling a home an overall great experience that you will remember! 
After 12 amazing years living in San Diego, she is thrilled to be back in her hometown of Jasper, Indiana helping others find their dream home in this quaint community she is proud to call home. She began working full-time for F.C. Tucker Emge REALTORS in Jasper and we are so very proud that she wears our name. 
She has been a large part in helping local families build stronger foundations for their future in our community as an active Board member of Habitat for Humanity of Dubois County. 
She is fully loaded with ongoing knowledge of the market, the ability to accurately price your home, the know-how to write a powerful purchase agreement, the ability to effectively respond to inspection reports and the competence to build an overall great experience for you. 
She looks forward to working with you, call her today at 619.459.1805, "Like" her Facebook page or visit her on LinkedIn. 

Testimonials
"Gina was representing both the buyer and seller (we were the buyers), but I always felt like we were getting honest and trustworthy advice. Gina was also very responsive to calls, emails and texts. She made the house we were looking at available for viewing on two spur-of-the-moment occasions. Gina also communicated the buying process, explaining what was going on and would happen next and when. I highly recommend Gina for buying or selling a home!"
"
~ Eric & Julie L
"Gina has gone above and beyond anything we could ever have asked for. Her professionalism is unmatched. She kept in touch with us over several months. Even though our goals and needs have changed she continued to be amazing!! She will always be our realtor. I will always recommend her. I can't express how awsome she is and how much she has helped me and my family."
"
Keith W.
"Gina sold my home in 12 hours! She was very helpful with her knowledge of the Real Estate market. It was my first time selling, and she had potential buyers looking at my home before it was even listed, which made the process smooth. She walked me through it every step of way without any problems. I would recommend Gina because she is honest, dependable and a hard worker!
"
Curt R.
"Gina is professional, open-minded, knowledgeable, AND fun! I had such a blast working with her. It's nice to have someone that actually cares to help you figure out what you really want, and then works their butt off (above and beyond) to make it happen. Gina brought the first offer to our property (which we accepted) within about 10 days after listing with her, versus my previous realtor who tried for six months! I honestly couldn't be happier and am grateful to have a new friend, not just a new realtor. 5+ stars for her."
Clay R.
"She's awesome. Gina is very personable and down to earth. We felt that she did everything possible to get the job done for us and guide us when we needed advice. I'd recommend her to anyone looking to buy or sell a home. I know we will go to her in the future if we have the need."
Dan & Vanessa H.
"Gina did a great job at communicating information with Dara O'Neil which was representing seller..Gina did a great job with returning info to me from her."
Jeff B.
"Just wanted to give a great big thank you to Gina Mehringer for helping me sell my house so quickly! I found her extremely helpful and professional. I was kept informed at all times and treated like I was family! If I ever need a realtor again I will be calling her and if I know anyone looking for a realtor I will highly recommend her and F C Tucker! Thanks again Gina!"
Marsha M.
"She's opened minded and honest. She always there when you need her!"
Amanda R.
"She was patient with me and understandable. "
Doris H.
"Very efficient with finding a home and helping to move forward with closing. "
Melissa W.
"Gina went above and beyond to help sell our property and gave great advice about a lot more than just the sales process. She was wonderful in helping us contact contractors and such to make repairs found in the home inspection; even going so far as to help schedule the work! Not to mention, Gina just has a great personality and work ethic. She was a pleasure to work with."
William E.