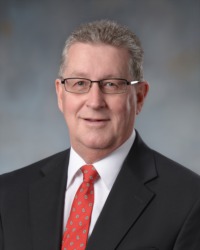 Gene Bonifer
Realtor®
Jasper Office • 901 Newton Street • Jasper,IN 47546
Jasper Office • 901 Newton Street • Jasper,IN 47546
Gene's Profile
Gene Bonifer is a 10+ year real estate veteran.  Active in the community, he has held various positions from booster club and alumni association president to basketball coach to little league manager.  There's no doubt that these leadership skills are what help make Gene a great choice for your REALTOR®.
Talk To Gene Bonifer at (812) 351-2300!
Click here to search all of the Multiple Listing Service!
Civic
Dubois Jaycees - President, Vice President, Secretary/Treasurer
Dubois High School Alumni Association - President, Vice President
Harbison Township - Township Trustee 1978-1982
Dubois High School Holding Corporation - Secretary
Appointment to Commission for Adult Education
Dubois Ruritan - Charter Member
Northeast Dubois School Board  (9 years)
Dubois Land Group - President, Treasurer 
Athletic
Northeast Dubois Athletic Booster Club - President, Vice President/Secretary, Treasurer
Northeast Dubois Tennis Booster Club - President, Vice President
St. Anthony Boys Basketball Coach (2 years)
Boys Basketball Coach - 6th & 7th Grades (8 Years)
Boys Assistant Basketball Coach - 7th & 8th Grades (3 Years)
Little League Manager - Dubois (3 Years)
Pony League Manager - Dubois (1 Year)
Babe Ruth Manager - Dubois (1 Year)
Girls Basketball Coach - 6th & 7th Grade - 13 Years 
Parishional
St. Raphael  Parish - Holy Name Society - President, Vice President, Lector (5 Years)
First Lay Person to administer Holy Eucharistic at St. Raphael Parish