We see lots of kitchen trends at HouseLogic, so we know it's easy to get swept along with what's in vogue, only to get bummed out by your faddish design choices a few years later. Thank you — and damn you — Pinterest.
But chances are you're only going to remodel your current kitchen once. After all, a complete kitchen renovation has a national median cost of $60,000, according to the "2015 Remodeling Impact Report" from the NATIONAL ASSOCIATION OF REALTORS®. With that much on the line, you want to make all the right moves. If you do, you could recover about 67% of your investment if you sell.
So we're here to future-proof you from angst by naming the seven definitive kitchen features that will retain their beauty, marketability, and value — all while giving you lasting enjoyment.
#1: White is the Dominant Color
Bottom line: White is the most marketable color. You'll always find it atop the National Kitchen and Bath Association's annual survey of most popular kitchen colors. It simply doesn't go out of style.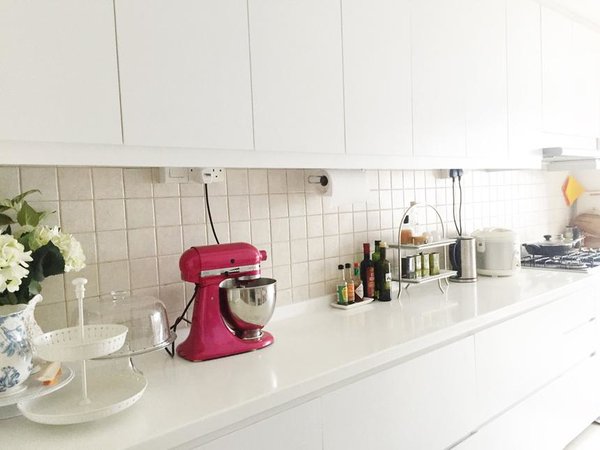 Image:
Patricia Alix
White's mojo:
Throughout history, it's been associated with happiness, purity (think Snow White), and new beginnings.
It's a bright color that reflects light and makes even small kitchens feel larger.
It's a neatnik's dream — dirt has no place to hide.
Even better, it's uber-tolerant of both your budget and taste: A standard color for any manufacturer, you'll find white cabinets, tile, counters, faucets, sinks, and appliances at any price point.
Related:
And with a white backdrop, you can be as conservative or expressive as you want. After all, it's about your enjoyment, not just dollars and cents. For example:
Add your personal touch with colored glass knobs and pulls.
Show off antique Fiesta ware on open shelves or in upper cabinets with glass fronts.
Paint walls the color du jour — even off-white!
Heck, with a white palette, you can change your mind about paint color on a whim. Those all-white basics will make any hue you choose look fresh and contemporary.
#2: Hardwood for Flooring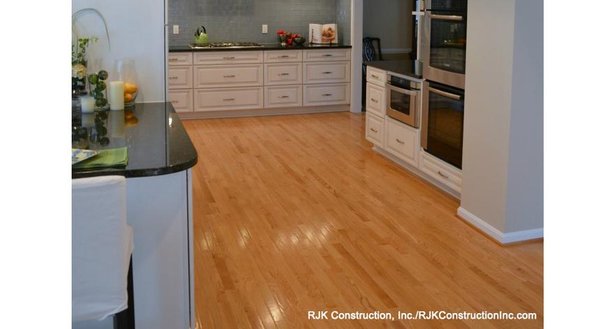 Image:
RJK Construction, Inc.
It's been our foot fetish for years. That's especially true ever since hardwood flooring was mass-produced during the Industrial Revolution, making beautiful flooring readily available at a reasonable cost.
Today, more than half of home buyers who purchased a home without hardwood floors say they would have paid an extra $2,080 for them, according to the "2013 Home Features Survey" from the NATIONAL ASSOCIATION OF REALTORS®. And among buyers of any age, upwards of 80% say hardwood floors are "somewhat" or "very important."
"It's the one feature men and women agree on," says Debe Robinson, NKBA treasurer and owner of Kitchen Expressions Inc. in Sheffield, Ala., who's also worked in the flooring industry.
Why? The love of wood is in our genes. Our nesting instincts know that hardwood has warmth, personality, and makes our homes cozy and inviting. That's why this clever chameleon pairs well with any kitchen style — from casual cottage and sleek contemporary to the most chi-chi Park Avenue traditional.
More reasons why wood flooring is the goof-proof option:
Perfect for open floor plans. It flows beautifully from the kitchen into adjoining rooms.
It's tough. Hardwoods such as oak, ash, and maple will shrug off your kitchen's high-traffic punishment for years. Solid hardwood flooring can be refinished 10 to 12 times during it's typical 100-year lifespan.
It's eco-friendly. Hardwood is considered a green building material when it's certified by the Forest Stewardship Council and comes from sustainably managed forests.