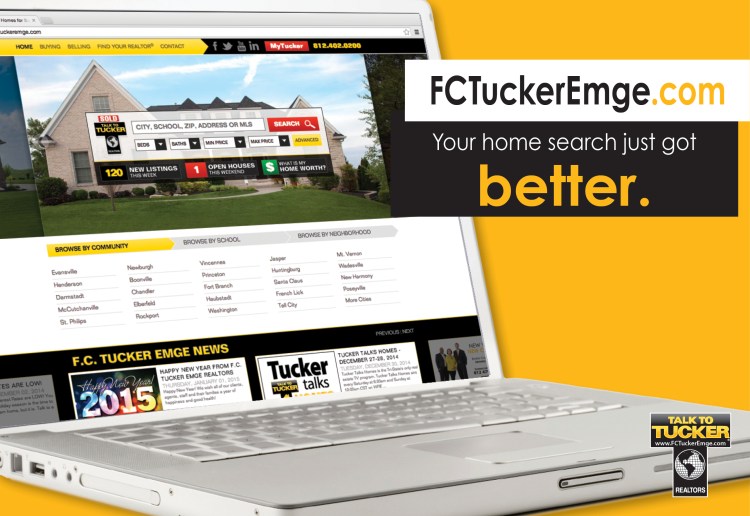 We wanted to take a minute to make you aware of some exciting changes to FCTuckerEmge.com and your MyFCTE.com account! This morning we launched the new FCTuckerEmge.com, with a cleaner, more user-friendly design. The site offers the ability to search by street, city, zip code and even school district right from the home page. All making your next home even easier to find!
Here are a few highlights to some of the changes:
MyTucker.com – New name, same great information! If you currently have a MyFCTE.com account, we've transferred that to our new website, so you'll start getting updates as soon as there is a match to your search criteria. Log on and check your saved searches and saved properties.
Logging on – When you first visit the site, click on the red "MyTucker" box along the top menu bar. Then select the button that says "Click Here to Login". You'll use your email address and password. If you don't remember your password, try your first name in lowercase.
Saved Searches & Saved Listings – If you don't have a search set up, simply create a search on the site and click the "Save Search" button on the top of the results page. Listings are easy to save in your account, click on the heart icon under each listing to save!
As always, FCTuckerEmge.com is the most reliable source of real estate information in the area. Don't waste time on the major sites like Zillow and Trulia – information there is often out of date and not accurate. Count on the one place you can view every listing in our area from the comfort of your home – FCTuckerEmge.com.
We hope you'll love the large pictures, virtual tours, property details and all the community and school information. Make sure to check out the map search capability as well!
We look forward to hearing from you about the new FCTuckerEmge.com – your home search just got better!