Chevron stripes are really hot in interior design right now. Check out this awesome DIY tutorial on how to update your décor with a DIY chevron rug!
Here's how I transformed my rug from boring, to
SPRING-TACULAR!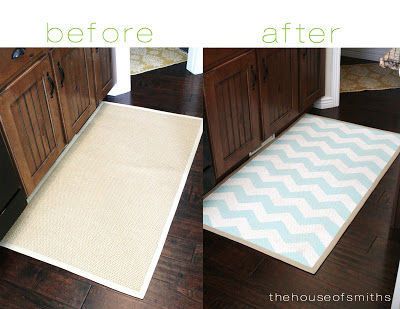 First I taped off the fabric edges, like so, because I wanted to leave those their natural color.
Then I started paintin' away, with some plain ol' Olympic Semi-gloss latex paint.
This process took me a while.
Like about an hour and a half!
The texture of the carpet was a BUGGER to get through, with the paint. And even required a second coat, to get the coverage that I was looking for.
The reason I went with this rug, was because of it's durability and texture. I love how beachy it looked.
– See more at: http://www.thehouseofsmiths.com/2011/04/chevron-painted-rug-from-ikea.html#sthash.p7kw3Q9z.dpuf
Read more – Chevron Painted Rug Tutorial