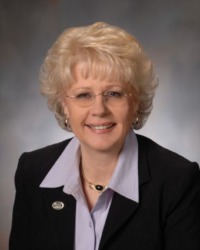 Joanne Muth
Assoc. Broker, ABR
Newburgh Office • 8944 Ruffian Lane • Newburgh,IN 47630
Newburgh Office • 8944 Ruffian Lane • Newburgh,IN 47630
Joanne's Profile
I'll be in Touch!
.....I'll be in touch....From the beginning of the real estate transaction to any time you have questions about the real estate market. When buying or selling in today's real estate market, you need the versatility and knowledge of a proven professional. You will need an agent who has a track record of success when it comes to marketing your family's home or coordinating the purchase or building of your next home. I'm dedicated to meeting your real estate expectations every time-whether you're a first time buyer, selling your home, or purchasing your dream retirement home. I believe buying and selling your house is not just a commodity or investment...it is your home, with all its memories, emotional attachments and financial goals involved. You can TRUST ME with this most valuable asset.
NATIONAL ASSOCIATION OF REALTOR
GRADUATE INDIANA REAL ESTATE LEADERSHIP ACADEMY
INDIANA ASSOCIATION OF REALTORS
EVANSVILLE AREA ASSOCIATION OF REALTORS
MULTI MILLION DOLLAR PRODUCER
EXECUTIVE CLUB WINNER
CHAMPIONS CLUB WINNER
REALTY ALLIANCE NATIONAL SALES AWARDS
GRADUATE INDIANA REALTORS LEADERSHIP ACADEMY
Testimonials
"Joanne was the realtor for the couple of the house we bought. She was instantly friendly, very detail-oriented and informative. She was readily available when we needed something throughout the process of the sale, and even afterwards when various issues arose she continued to make herself available to help resolve them. I would highly recommend Joanne for her professionalism and pleasant demeanor."
B. C.
"Joanne was my mentor when I began real estate; she was patient, kind, thoughtful, and helpful. She was never judgemental, or critical. She was always available when I needed her. I consider her a friend for life."
J. L.
"Joanne is the perfect example of a professional real estate agent. She does her homework - both on the selling and buying sides. She uses all the new tech tools to her client's advantage, and to keep them updated with what's happening with their search or sale. Very thorough and very personable to work with. I highly recommend her. Service Category: Real Estate Agent Year first hired: 2006 (hired more than once) Top Qualities: Great Results, Expert, High Integrity"
D. A & L. A.
"Joanne always puts her clients first and works hard to help them find the perfect home. I would work with Joanne anytime and do recommend her to all my family and friends."
J.A
"I have worked with Joanne on numerous real estate transactions and have found her to be very professional and has an eye for details, she always returns calls very promptly. The clients she and I have had the opportunity to work with speak highly of her abilities and willingness to go above and beyond to make their home buying or selling experience as easy as possible."
T.N.
"Joanne is wonderful to work with. Thank You for your tremendous efforts."
S.A.
"Joanne did an outstanding job in helping me purchase my first home. She was always available to answer my questions, and she proactively sought to help me understand the process of buying my home."
L. A.
"Joanne went beyond the call of duty for us. She guided us every step of the way, and then some."
M.M. & K. M.
"Joanne was great. She made buying my first home as stress-free as possible."
C. T.
"Joanne made contact with me daily & was so flexible with our schedules. She was also patient & answered so many questions. We'll definitely contact her again when we sell."
N. S. & T. S.
"Joanne is the best Realtor that I have ever worked with. She kept right on top of everything & kept me informed as to our progress."
J. K.